Reading Time:
8
minutes
Ocular rosacea is usually mistaken for other eye issues such as blepharitis, meibomian gland dysfunction (MGD), and dry eye. Approximately 20% of individuals with rosacea show ocular manifestation before developing any skin signs, which often leads this type of rosacea to be ignored or misdiagnosed. 
This article helps those with ocular rosacea symptoms know more about their condition and take the necessary measures appropriately. To prevent recurrence and progression, we also help sufferers gain more information about ocular rosacea causes and risk factors, including a kind of parasite referred to as Demodex mites.
Rosacea is a common chronic skin issue with different symptoms and severity. The condition primarily involves the small blood vessels, follicles, and oil glands. Although rosacea can impact numerous parts of the skin, it is usually restricted to the central part of the face, such as the nose, chin, cheeks, and forehead. This disorder causes temporary or permanent redness, pimple-like lumps, broken veins, and dilated blood vessels, bumpy skin, and a Rhinophyma (enlarged nose.)
Although rosacea is primarily regarded as a skin issue, 58 to 72% of sufferers experience various eye manifestations, including eyelid swelling and eyes discomfort. About 30% of individuals also develop corneal involvement, which may impact their vision. The kind of rosacea that involves the eye is named ocular rosacea. As noted, in 20% of sufferers, eye-related manifestations may occur before any skin signs, making it challenging to diagnose.
Stubborn, untreated ocular rosacea may cause varying degrees of eye disorders, eyelid deformities, emotional and social suffering. Regarding the negative impact of this disorder on sufferers' quality of life and its potentially threatening visual effects, it is crucial to improve people's information about the signs, complications, and management of ocular rosacea.
Who Is Most Affected by Ocular Rosacea?
According to the National Rosacea Society (NRS), about 16 million Americans have rosacea. However, women are more prone to this condition and are usually diagnosed earlier. Maybe that's because men tend to avoid medical care far more often than women. On the other hand, men are more prone to Rhinophyma, a kind of rosacea-related change in the nose. Rhinophyma is accompanied by an enlarged, bumpy nose, and is more expected in men over 40 when their disorder progresses over time. Yet, ocular rosacea involves both sexes equally. Rosacea can impact people of any age, including children and older adults, but mainly affects middle-aged individuals.
Although rosacea can happen in all ethnicities, people of fair skin and European descent are more prone.
Symptoms of Ocular Rosacea
Although rosacea generally causes redness and inflammation, this article exclusively discusses the ocular rosacea symptoms. Refer to this link to gain more knowledge about cutaneous rosacea and the measures that help you manage it.
Ocular rosacea manifestations include:
Ocular rosacea symptoms usually involve both eyelids and can be similar to other ocular concerns. Meibomian glands dysfunction (MGD), the primary cause of evaporative dry eye, is generally expected in ocular rosacea. MGD leads to changes in the tear composition, causing dry eyes, spider veins in eyes, dilated eye vessels, and blepharitis. In acute situations, ocular rosacea can cause corneal perforation.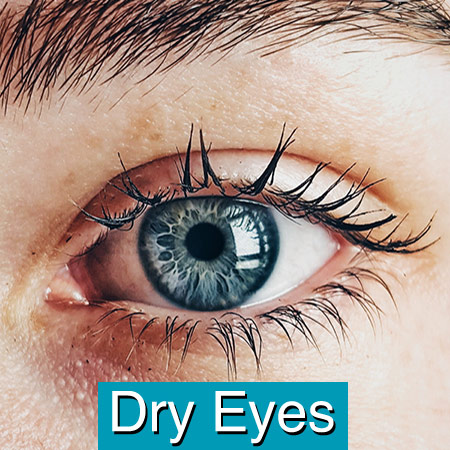 The leading cause of rosacea, both cutaneous and ocular, is still unknown. However, different theories have been presented to debate the reasons behind it.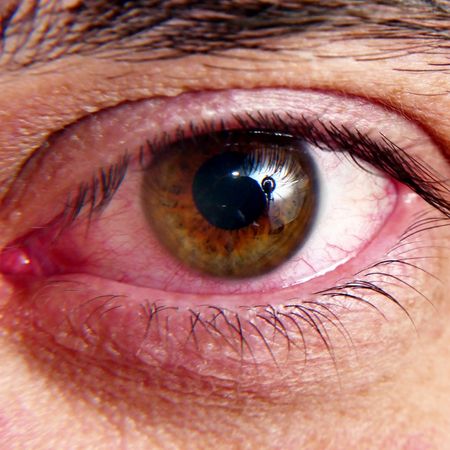 Some investigations have examined the tear fluid in ocular rosacea sufferers and showed high inflammatory agents compared to healthy people's tears. So, rosacea, including the ocular type, appears to be an inflammatory condition. However, recently it has turned out that some environmental factors, such as lifestyle, specific stimuli, and weather conditions, can trigger or worsen ocular rosacea.
Some investigators have also discovered that individuals with rosacea react more strongly to stimulation than ordinary people. Besides, their natural defence may be overactive and release more inflammatory transmitters, aggravating rosacea.
Dilation and permanent venous insufficiency set the stage for rosacea manifestations. Investigations reveal more blood flow in the face of sufferers compared to other areas of the skin. On top of that, in individuals who experience ocular and cutaneous rosacea, blood vessels and lymphatic vessels enlarge greatly, leading to the facial skin and eyes evolving bloody, red, and swollen.
Besides inflammation and vascular problems, inheritance strongly impacts rosacea development and flare-ups. Some genetic factors change the arteries, causing more blood to flow in the eyes and facial area and also inducing other manifestations of rosacea.
Microorganisms such as Staphylococcus epidermidis, Helicobacter pylori, and Demodex mites are other potential elements that can worsen the rosacea condition.
Staphylococcus Epidermidis
Staphylococcus epidermidis is a gram-positive bacterium that plays a role in rosacea's pathogenesis. The bacteria naturally live on humans and is the most abundant populations on the skin's surface.  
Staphylococcus epidermidis defends the skin barrier by inhibiting the proliferation of pathogenic germs, such as Staphylococcus aureus.
Investigations have revealed that Staphylococcus epidermidis is the only bacteria existing in acne-like appendages on the skin of people suffering from rosacea. They create provocative substances that stimulate the natural defence and trigger rosacea symptoms.
The prevalence of Helicobacter pylori infection is higher in rosacea sufferers than in healthy people. Moreover, H.pylori eradication has been revealed to have a role in the clinical outcome of the condition. This bacteria is one of the microorganisms that contribute to digestive issues. Helicobacter pylori can cause gastrointestinal ulcers. It also dilates blood vessels and intensifies the redness rosacea sufferers experience in their eyes through producing a kind of hormone.
Demodex mites living in the pilosebaceous units of the skin are the most common type of parasites in humans. They usually exist in small quantities on almost all adults' skin. Yet, investigations support their function in triggering immune mechanisms in different types of rosacea, particularly the papulopustular type.
The Demodex density is hugely higher in people suffering from facial rosacea. Moreover, some studies show a large quantity of them is present in the ocular-rosacea-caused discharge.
Demodex mites have a well-understood role in causing and aggravating blepharitis and chalazion, the two common eye concerns connected to ocular rosacea.
Beyond triggering the immune system, another proposed mechanism is that Demodex parasites are the potential carrier of some harmful microorganisms, such as Bacillus oleronius, the main culprit in activating the inflammatory reaction in rosacea. 
Eventually, Demodex mites secrete inflammatory metabolites that damage tissues, cause inflammation and exacerbate rosacea.
The function of Demodex mites in exacerbating the signs of rosacea is so drastic that sometimes high density of mites can mimic rosacea symptoms, which vanish after proper treatment to remove the mites.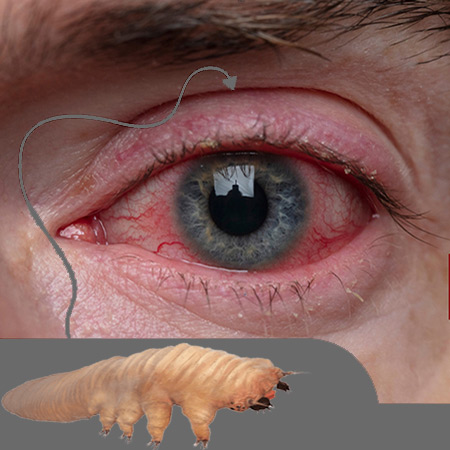 There is no absolute remedy for rosacea, whether cutaneous or ocular. Approaches mainly focus on managing symptoms and preventing progression. Meanwhile, adopting appropriate measures to control ocular rosacea should start as soon as possible to avoid irreversible eye tissue changes. These measures prevent severe complications and help people with ocular rosacea return to everyday life by managing their symptoms.
Besides the wide range of medical therapies, handling rosacea has two critical aspects:
Controlling Stimulus of Ocular Rosacea
Preliminary management concerns finding and avoiding triggers. These stimuli usually range from one person to another. Yet, generally, the following factors can trigger the rosacea signs, including the ocular type:
Analysing The Root Causes of Ocular Rosacea
One of the practical approaches to control ocular rosacea is to recognise the root causes and eliminate them as much as you can. As it is evident, many of them are intractable, including genetic factors, vascular disorders, skin colour, and defects in immunity. Yet, sufferers can find manageable risk factors and control rosacea symptoms by bringing them under control. controllable rosacea risk factors include:
Physicians can diagnose and take care of each of the above factors in a particular way. For instance, they detect Helicobacter pylori through methods such as stomach biopsy tests, stool antigen, and H. pylori breath tests.
Demodex mites have a substantial role in developing and aggravating rosacea symptoms among the above manageable factors. So, determining and eradicating these mites is a significant step toward controlling rosacea manifestations.
How to Detect Demodex Mites Infection
There are typically two diagnostic methods to determine Demodex mite infection in humans: online test and microscopic test.
To perform the process, the specialist scrapes the skin in the areas that manifest the most rosacea symptoms, including the central part of the face and eyelids. They may also pull out a few lashes from the roots to detect Demodex on them. The laboratory scientist inspects this sample under a lens to count Demodex mites per square centimetre. If the density of parasites is significant (more than five per square centimetre), they are likely to have a role in producing rosacea manifestation. In this scenario, eradicating them is the best way to control rosacea symptoms.
One of the best products you can employ to remove Demodex is PROCUTiN, the amazing anti-Demodex spray produced by Ozidex. Moreover, if you experience extreme symptoms, have sensitive or extra sensitive skin, or have symptoms on your eyelash line, SDT is an excellent choice. This product is quite soft on the delicate parts of the skin, including eyelids and does not cause irritation. Both PROCUTiN and SDT can be employed on all skin parts. To benefit from these products, you just need to spray a small amount of them on affected areas such as your scalp, face, or eyelids to eradicate the Demodex mites and their rosacea-mimicking manifestation. You require to do this every night for a few months.
The Demodex online diagnostic test is a precise and reliable quiz to evaluate Demodex mite density with a good approximation analysing the symptoms they express themselves through. 
Despite what it seems, the online quiz is completely accurate and skips the common microscopic test mistakes. Demodex mites usually hide deep in the skin, attaching their long tails to the hair root. So, the number of mites specialists can count under a microscope does not necessarily match their actual density, while online testing does not have these challenges.
Demodex online testing is quick, trustworthy, and non-invasive. It doesn't matter where around the world you are; just check this link to discover your Demodex density. The Demodex online diagnostic test only takes five minutes and is entirely complimentary.
If the result shows a medium, high, or very high population of parasites on your skin, eradicating them will probably help you soothe your rosacea symptoms. 
Besides PROCUTiN and SDT, you can utilise DDC to clean your eyelids, skin and scalp to alleviate Demodex mite symptoms. DDC  is a marvellous anti-Demodex cleanser to remove bacteria, viruses, and other microorganisms besides Demodex mites. These germs include microbes that play an effective role in causing rosacea symptoms. Since baby shampoo can not eliminate Demodex, you can use DDC for routine eyelid washing, usually advised as a home remedy for ocular rosacea.